We are honored to have you visit our website. We hope that you will take the time to explore the site and to gain an understanding of what it is to be a modern member of the Benevolent and Protective Order of Elks. Find out who we are, what we are, what we do and how you might
join our charitable fraternal organization
!
The Order of Elks is distinctly American. It is a national, charitable organization founded on the principals of Charity, Justice, Brotherly Love and Fidelity. Here in Oregon our two primary children's charities are the
Camp Meadowood Springs
and the
Elks Children's Eye Clinic
, part of the Oregon Health and Science University. Through the
Elks National Foundation
, which is the charitable arm of the Order, we offer local and national
scholarship programs
. We also offer other Youth Programs such as the
Teenager of the Month
Awards,
Elks Drug Awareness Program
, and the
Elks National Hoop Shoot Free Throw Contest
. Our Veterans are very important to the Elks. The BPOE Elks offer services to our veterans, such as the Elks National Veterans Service Commission, and grants to maintain the Elks Veterans Memorial in Chicago.
Our Lodge here in the Parkrose district of Portland is just one of many across the State of Oregon, ,and across our great Nation... all of which are committed to the same goals. As a member of the Order, you are welcome in any of the over 2100 such Lodges in the contiguous 48 states, Hawaii, and Alaska. A definite plus if you're traveling for business or pleasure as Elks tend to treat each other like extended family.
We hope that after viewing our site you may have a better understanding of today's Elks and you may even be interested in joining our Order and helping us with our worthy causes. And lest you think we are all work and no play, take a look at our
Photo Gallery
, our
Lodge Calendar
and our
Entertainment Section
! And check back often! The site is on-going and new photos and articles will be posted frequently.
If you're in our area, please drop in and ask for a tour of our Lodge. Visitors are always welcome. And if you're anywhere else in the country, check the phone book and contact the Lodge nearest you.
Feel free to ask the Officers anything about our
Lodge, Committees, and Charities!
---
Gateway Elks Lodge #2411
Incoming Officers for the Year 2014 - 2015
Congratulations!
| | | | |
| --- | --- | --- | --- |
| | | | |
| Tom Frazey | Bruce Beattie | Mike Finch | Pat Edwards |
| Exalted Ruler | Esteemed Leading Knight | Esteemed Loyal Knight | Esteemed Lecturing Knight |
Archie the Elk Says . . . WOW! There are a TON of upcoming events for Camp Meadowood Springs! Better mark your calendars so you don't miss out on the fun!
Upcoming Meadowood Events
The Meadowood committee is already in full swing planning their many upcoming spring and summer events. There are some special ones in the works, including a statewide barbeque and auction to be held in the Gateway Lodge Park!
ANYONE who is interested in joining the committee or even just lending a hand for a special event is welcome to join us! We will be having our first big planning meeting on APRIL 9TH in the UPPER DINING ROOM starting at 7pm.
State Convention will be held in Oregon City this year. If you are planning on attending convention, there will be a Statewide Meadowood meeting on Friday April 25th from 10 - 11am. This is your chance to see our Lodges work together to supporting Camp Meadowood Springs. Also, check out the Camp Meadowood Springs booth at the convention. The committee will be selling 50th Anniversary mugs to help support the camp programs.
Wednesday May 14th at 7pm, in the UPPER DINING ROOM, will be the final Gateway Spring Spruce Up Meeting. For those of you who have never been, the Spring Spruce Up is the time when many of the Lodges gather at Camp Meadowood Springs and get it ready for the summer campers. We clean up downed trees, scrape and paint the cabins, check the electrical and heating for each cabin and any other maintenance required. We also take this time for special projects and much needed renovation.
We need people who can paint, know heating, electrical, plumbing, are willing to clear brush, haul cut firewood and more. We also need kitchen help. Many hands make for lighter work and there is no other group that works more than the team in the kitchen. Many of our senior ladies have retired and we are looking for some much needed replacements. Our goal is to have enough help that no one has to work the 14+ hour shifts we have done in the past.
Saturday May 17th Meadowood is sponsoring a Dinner and Dance at the Gateway lodge, featuring a professional DJ. This is the makeup event for the Sock Hop that was cancelled due to bad weather in February. If you had already purchased your dinner ticket, it will be honored on the 17th. There will be a choice of steak or chicken for dinner that night. Check with Bob Kennedy, Dave Roberts or George Haston for ticket info.
The Camp Meadowood Springs Spring Spruce Up happens over Memorial Day weekend, May 22 - 26th. This is the time we pack up our tool-belts, load the car and head to eastern Oregon for a weekend in the great outdoors. There is plenty of work, but there is also time to get to know some fantastic people from other Elks lodges. The person working next to you could be from Bend or Kaiser or Milton-Freewater, you never know. The kitchen is open for meals from Friday night till breakfast on Monday. There is a nominal charge for meals for the weekend. There are cabins available for workers and their family or you may bring your RV. Bob Kennedy will be booking cabins and RV space beginning May 1st. Details available at the April meetings.
This year will mark the 50th anniversary of Camp Meadowood Springs and it's great work with the speech and hearing impaired children in Oregon. In honor of this important event, plans are in the works for a statewide celebration to be held in the park at Gateway lodge! There will be a Steak Barbeque and Auction on June 21st. Details will be available soon, so save the date and plan to help us raise the money needed to keep on helping these special kids.
If you have never had a chance to see the staff at Camp Meadowood Springs in action, make plans to attend the Open House on July 26th. For one day they open their doors to the Elks and their families, so we can see the work they do. There is a tour of the camp, lunch with the kids and a special presentation in the afternoon. This is your chance to come see the "Magic On The Mountain". Following the open house there is a dinner at the Milton-Freewater Lodge and all are welcome to attend.
For more information please contact Bob Kennedy @
, Dave Roberts @
, or George Haston @
.
Thank you and God Bless, Bob Kennedy & George Haston, co-chairmen
To wrap it all up....
04/25/14 Statewide Meeting at Convention from 10am - 11am
05/14/14 Final Gateway Spring Spruce Up Planning Meeting @7pm
05/17/14 Dinner & Dance (Sock Hop) event with special guest DJ
05/01/14 Book your cabin or RV Spot for Camp Meadowood Springs "Spring Spruce Up'
05/22-26/14 Camp Meadowood Springs 'Spring Spruce Up' (at the Camp)
06/21/14 Steak Barbeque and Auction (to help celebrate 50 years of the Camp)
07/26/14 Camp Meadowood Springs 'Magic on the Mountain' (Open House)
---
Greeters ~ We Need Help


Would you like to meet people? Would you like to make new friends? We have just the way to do just that. We need singles or couples to greet our members and guests coming into the Lodge. Please call Bobbie Boyko at
to sign up or for more info.
Veteran's New Popcorn Machine!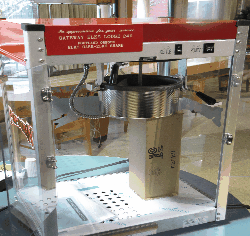 The Gateway Elks Lodge Veteran's Committee donates
a new Popcorn Machine to the Veteran's Hospital.

"So long as there are veterans,
the Benevolent and Protective Order of Elks will never forget them."
---
2014-2015 Dues Notice Available For Download
The 2014-2015 Membership Dues Notice is
now available to you for download. Please click here to take you to our Member's Home Page to view and print your form.
Secretaries Notes: We wish to thank all of our members for paying their dues promptly and for the many generous donations to all of our charities.
For some committees, this is the only time of the year that they receive monies that help throughout the year. For those have not paid yet there is still time to catch up. Come on in or give us a call, the office is open Monday through Friday, 10 AM to 4 PM The dues notice is in this month's Gatepost and in the office.
If you have any questions, feel free to contact our Lodge Secretary, Judy Veazey.
Please note that this is in the "Member's Only" section of our website. To find out how you can become a member, please click here ... or ask one of our officers! Stop by our Lodge during normal business hours (Monday - Friday from 10am - 4pm) to take a tour!
Coming Your Way This Month !
Unless noted otherwise, all Lodge events are
open to Elks and their guests only.

---
---
---
---
---
---
---
Monday Afternoon
Betty Hise Knitting & Crocheting Social

and too!

We Meet Every Monday Afternoon
From 2pm to 4pm

You can find us on the upper level of the dining room, by the big windows.
Everyone is welcome to join and there are no fees.


Here we are at the beginning of April and all ready we have 598 hats done. This might sound like a lot but when you have a goal of 1500 hats we still have a long way to go. I know we will make that goal.

In order to reach that we need your unwanted yarn. If you have some yarn donation you would like to make please call me or you can leave it at the Lodge in the cloakroom. Please include your name so we know who donated it to us. I would like to thank Jane McGarvin for your donations.

The Gateway Elks Betty Hise knitting and crocheting social provides yarn, knitting needles, crochet hooks, and someone to show you what to do with all this. This is for those that wish to help with making the hats that get donated to Doernbecher Children's Hospital. We also accept donations of yarn. If you are interested in attending this knitting social just to learn to knit or crochet, we do that too! We even have a collection of easy knitting and crocheting patterns that you can borrow along with some that we will give to you. All we ask is that you bring your own knitting/crocheting tools… as those we do not supply. You also are not required to make hats at this knitting social. You are very welcome to work on your own projects.

The Gateway Elks Lodge knitting social provides yarn to those that wish to help with making the hats that get donated to Doernbecher Children's Hospital. We also accept donations of yarn here too. If you are interested in attending this knitting social just to learn to knit or crochet, we do that too! We even have a collection of easy knitting and crocheting patterns that you can borrow. All we ask is that you bring your own knitting/crocheting tools…as those we do not supply. You also are not required to make hats at this knitting social. You are very welcome to work on your own projects.

For more information please call Mary Gast at .

Donations of acrylic or cotton yarn and fleece fabric is greatly appreciated.

You don't have to be an Elk or an Elkette to attend. Anyone may attend and all are encouraged to bring friends along as guests. There are no fees for this social and you may bring your own projects. Beginners are always welcome! Help with knitting and crocheting is available.

Donations of acrylic or cotton yarn and fleece fabric is greatly appreciated.
---
Tuesday Quilting Social



Over the past several months, we have begun to piece together a group of quilters at the lodge. We meet every Tuesday in the upper dining room area and are looking for more interested individuals to join us!

We work on both charity quilts and our own projects. Don't know how to sew? No problem. We have many experienced members who can help you. Hands not up to cutting the fabric? Again, we have people who can help you with that.

We have made quilts for the Veterans and could use some help getting quilts done for the Elks Casey Eye Clinic.

We are still in need of a couple of older sewing machines, so we don't need to bring the ones from home. Those old Singers and Kenmores (the really heavy ones) hiding in the back of your closet are great for piecing quilts.

The Tuesday Quilting group has donated many quilts over the last year. In August, they donated a lap size quilt for the Meadowood Auction. They also gave one to the Veteran's committee that was raffled off at the Veterans Party on November 10th. And in November, one was raffled off at the Turkey Shoot.

We have many more quilts in the works for the eye clinic and other needy organizations. Come join us! Sewing is not required.

Drop by any Tuesday from 11-3. We would love to show you what we are working on.

Nancy Goldsworthy
Quilting Coordinator




---
Every Wednesday Night!



What could be more fun than playing BINGO
with your friends, helping to support local charities,
AND winning some cash??
Starts at 6:30pm

Offered Every Week:
Coffee and Popcorn ~ FREE
Hot Dogs ~ ONLY $1
Polish Sausages ~ ONLY $1.50
Sodas and Other Drinks
Available Upstairs in the Lounge


Message from the Bingo Committee: Hello all, the Bingo Committee has an appetizing deal for you! When you purchase a dinner on Wednesday night for $5 or more, bring the receipt to Bingo and we will give you a great specials during BINGO! it is good only on the night of the food purchase. you can even bring your meal, and drinks from the bar, downstairs and play. So come on down and have a good meal and some fun playing Bingo!
---
Friday Night Dinner
From 5pm - 8pm

Music & Dancing
Starts at 7:30pm
(But you're welcome to dance at any other time)



Friday Night

Saturday Night

Archie Entertainment ~ 4th
Carey Savage ~ 11th
Taska ~ 18th
(Game Room Jukebox) ~ 25th
Archie Entertainment ~ May 2nd
Archie Entertainment ~ 5th
Reflections ~ 12th
(Game Room Jukebox) ~ 19th
The Fabulous Farelanes ~ 26th
(Game Room Jukebox) ~ May 3rd




*TBA means that the webmistress has not yet been informed of the band that is possibly playing this night.
The "Game Room Jukebox" is just that, it's the jukebox located in the Lodge Game Room. Plug a buck in,
play some FREE pool, order up a cold one, and have a fun night with your friends in the game room.
You're even welcome to dance!




MAIN LOUNGE AND DANCE FLOOR
Game Time

Whether you are a casual player or a fanatic, you'll find what you need! For your enjoyment, the Lodge has:

CARDS
LOTTERY MACHINES
DARTS
POOL TABLES
SNOOKER
SHUFFLE BOARD


Our facilities are particularly suited for scheduled activities like:

CHESS
CARD GAMES

POOL TOURNAMENTS





Guests are always welcome but must be accompanied by a member.
Click here to find out how to become a member




THE GAME ROOM
---
I'm not sure what happened, but the Facebook "Like" button evaporated on me. I am working on getting it back.

Oh heck! I give up... if anyone out there could help me with this, it would be GREATLY appreciated! I have tried everything. :-(

Kind regards,
Deborah Plance,
Gateway Elks #2411 Webmistress