We are honored to have you visit our website. We hope that you will take the time to explore the site and to gain an understanding of what it is to be a modern member of the Benevolent and Protective Order of Elks. Find out who we are, what we are, what we do and how you might
join our charitable fraternal organization
!
The Order of Elks is distinctly American. It is a national, charitable organization founded on the principals of Charity, Justice, Brotherly Love and Fidelity. Here in Oregon our two primary children's charities are the
Camp Meadowood Springs
and the
Elks Children's Eye Clinic
, part of the Oregon Health and Science University. Through the
Elks National Foundation
, which is the charitable arm of the Order, we offer local and national
scholarship programs
. We also offer other Youth Programs such as the
Teenager of the Month
Awards,
Elks Drug Awareness Program
, and the
Elks National Hoop Shoot Free Throw Contest
. Our Veterans are very important to the Elks. The BPOE Elks offer services to our veterans, such as the Elks National Veterans Service Commission, and grants to maintain the Elks Veterans Memorial in Chicago.
Our Lodge here in the Parkrose district of Portland is just one of many across the State of Oregon, ,and across our great Nation... all of which are committed to the same goals. As a member of the Order, you are welcome in any of the over 2100 such Lodges in the contiguous 48 states, Hawaii, and Alaska. A definite plus if you're traveling for business or pleasure as Elks tend to treat each other like extended family.
We hope that after viewing our site you may have a better understanding of today's Elks and you may even be interested in joining our Order and helping us with our worthy causes. And lest you think we are all work and no play, take a look at our
Photo Gallery
, our
Lodge Calendar
and our
Entertainment Section
! And check back often! The site is on-going and new photos and articles will be posted frequently.
If you're in our area, please drop in and ask for a tour of our Lodge. Visitors are always welcome. And if you're anywhere else in the country, check the phone book and contact the Lodge nearest you.
Feel free to ask the Officers anything about our
Lodge, Committees, and Charities!
---
Gateway Elks Lodge #2411
Incoming Officers for the Year 2014 - 2015
Congratulations!
| | | | |
| --- | --- | --- | --- |
| | | | |
| Tom Frazey | Bruce Beattie | Mike Finch | Pat Edwards |
| Exalted Ruler | Esteemed Leading Knight | Esteemed Loyal Knight | Esteemed Lecturing Knight |
Elk's National Foundation
When you give to the Elks National Foundation, you're doing more than funding the Elks National Drug Awareness and "Hoop Shoot" programs. You're doing more than supporting the Community Investments Program and providing Emergency Educational Grants to the children of deceased or totally disabled Elks. You're doing more than maintaining the Elks Veterans Memorial. You're doing all that, and you're supporting Elkdom in your state.
During the 2013-14 Lodge year, the Elks of Oregon donated $155,487.46 to the Elks National Foundation. This year, the Foundation will give back the following:
State Major Charities
State Charities Grant: $194,490.00
Special Projects Grant: $110,020.00
Bonus Grant: $46,230.00

These grants support Oregon Elk's major charitable projects (Elks Children's Eye Clinic), as well as other philanthropic projects. Portions of these grants will also support Oregon Elk's Drug Awareness Program, Hoop Shoot, and educational programs.
Scholarships
Most Valuable Student: $72,000.00
Legacy Award: $36,000.00

ENF will award a total of 18 "Most Valuable Student" scholarships to high school seniors from Oregon. (Click here to check out your recipients.) In addition, we will award up to 9 Legacy scholarships to children, grandchildren and stepchildren of Elks. (Click here to check out your recipients.)
Veterans
National Veterans Service Commission: $7,860.00

These funds will help them provide aid and comfort to hospitalized veterans.
That's a ratio of 3.001 for every dollar the Foundation received from Oregon last year. And that doesn't even include the money Lodges in Oregon will get back through our Community Investments Program. For the 2012-13 fiscal year, for example, ENF awarded a total of $144,000.00 to 38 Oregon Lodges.
Take a brief moment to view this video and learn what ENF and some of the Elks Lodges across the Nation have done for their communities.
For more information about the Elks National Foundation, contact your local chairman or write us at Elks National Foundation, 2750 N. Lakeview Ave., Chicago, IL 60614, enf@elks.org.
Remember to go see your future treasures at the
Widow's Bazaar on the 1st and 2nd of August.

Also, on the 21st, Lodge night will be held out in the park.
There will be a Hillsboro invasion.
Don't forget your squirt guns!!
---
---
Greeters ~ We Need Help


Would you like to meet people? Would you like to make new friends? We have just the way to do just that. We need singles or couples to greet our members and guests coming into the Lodge. Please call Bobbie Boyko at
to sign up or for more info.
Diana is a Quilting Queen!
Diana Mills has been a member since the end of October of 2001. Since that time, she has made twin sized and lap quilts, donating them to over 16 different organizations on behalf of Gateway Elks Lodge. Through the generous donations of materials, and her own slim pocket book, her total cost for all have been stated to be well over $45,000, including her valuable time. She has hand crafted well over 2,800 to places such as the Camp Meadowood Springs (60 twin size), Casey Eye Clinic (391 lap blankets), Veteran's (1,409 lap blankets), Troops overseas (45 lap blankets), Providence Maternal Care Clinic (79 lap blankets), Shriners Hospital (70 lap blankets), various pet clinics (467 bed blankets), various other health clinics (362 twin and lap blankets), and the list goes on. These numbers were as of September of 2011. As of January of 2014 she has made and donated !! 5,219 !! Quilts! Is that amazing or WHAT?!? That equates out to over 401 quilts for each year that she has been a member! Now that is impressive! Diana deserves a wonderful round of applause and many thanks for all she has done, as well as thanks to those who have helped her work her magic in all she has done. Thank you, Diana!
Diana just informed me that she will be crafting up another of her fabulous quilts to be raffled off at the Veteran's Picnic through Central City Concern on June 26th. Diana will be presenting the quilt to the winner. Catharine Hunter, from Central City Concern, will be there to show her appreciating to Diana for all the quilts she has given them over the years.
---
Veteran's New Popcorn Machine!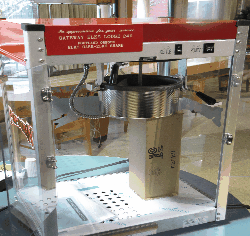 The Gateway Elks Lodge Veteran's Committee donates
a new Popcorn Machine to the Veteran's Hospital.

"So long as there are veterans,
the Benevolent and Protective Order of Elks will never forget them."
---
2014-2015 Dues Notice Available For Download
The 2014-2015 Membership Dues Notice is now available to you for download. Please click here to take you to our Member's Home Page to view and print your form.
Secretaries Notes: We wish to thank all of our members for paying their dues promptly and for the many generous donations to all of our charities.
For some committees, this is the only time of the year that they receive monies that help throughout the year. For those have not paid yet there is still time to catch up. Come on in or give us a call, the office is open Monday through Friday, 10 AM to 4 PM The dues notice is in this month's Gatepost and in the office.
If you have any questions, feel free to contact our Lodge Secretary, Judy Veazey.
Please note that this is in the "Member's Only" section of our website. To find out how you can become a member, please click here ... or ask one of our officers! Stop by our Lodge during normal business hours (Monday - Friday from 10am - 4pm) to take a tour!
Coming Your Way This Month !
Unless noted otherwise, all Lodge events are
open to Elks and their guests only.

---
---
---
---
---
---
---
---
Monday Afternoon
Betty Hise Knitting & Crocheting Social

and too!

We Meet Every Monday Afternoon
From 2pm to 4pm

You can find us on the upper level of the dining room, by the big windows.
Everyone is welcome to join and there are no fees.


Every fall in October I start making arrangements to hand in our hats to the Doernbecher Hospital. With three months to go, we now have 1,100 hats done. I am thrilled with what we have gotten done so far but, we still have three months to go. Our goal this year is 1,500 hats. I know that we can make this goal.

There are a few ladies I would like to thank for their donations of yarn, knitting needles, crochet hooks. Thank you to Joann Iversen, Barbara Richardson, and Arlene Kennedy's friend, Diane. Your donations will help keep us going. A big thank you from all the ladies.

Happy crafting and may the sun be with you,
Mary Gast

The Gateway Elks Betty Hise knitting and crocheting social provides yarn, knitting needles, crochet hooks, and someone to show you what to do with all this. This is for those that wish to help with making the hats that get donated to Doernbecher Children's Hospital. We also accept donations of yarn. If you are interested in attending this knitting social just to learn to knit or crochet, we do that too! We even have a collection of easy knitting and crocheting patterns that you can borrow along with some that we will give to you. All we ask is that you bring your own knitting/crocheting tools… as those we do not supply. You also are not required to make hats at this knitting social. You are very welcome to work on your own projects.

The Gateway Elks Lodge knitting social provides yarn to those that wish to help with making the hats that get donated to Doernbecher Children's Hospital. We also accept donations of yarn here too. If you are interested in attending this knitting social just to learn to knit or crochet, we do that too! We even have a collection of easy knitting and crocheting patterns that you can borrow. All we ask is that you bring your own knitting/crocheting tools…as those we do not supply. You also are not required to make hats at this knitting social. You are very welcome to work on your own projects.

For more information please call Mary Gast at .

Donations of acrylic or cotton yarn and fleece fabric is greatly appreciated.

You don't have to be an Elk or an Elkette to attend. Anyone may attend and all are encouraged to bring friends along as guests. There are no fees for this social and you may bring your own projects. Beginners are always welcome! Help with knitting and crocheting is available.

Donations of acrylic or cotton yarn and fleece fabric is greatly appreciated.
---
Tuesday Quilting Social



Over the past several months, we have begun to piece together a group of quilters at the lodge. We meet every Tuesday in the upper dining room area and are looking for more interested individuals to join us!

We work on both charity quilts and our own projects. Don't know how to sew? No problem. We have many experienced members who can help you. Hands not up to cutting the fabric? Again, we have people who can help you with that.

We have made quilts for the Veterans and could use some help getting quilts done for the Elks Casey Eye Clinic.

We are still in need of a couple of older sewing machines, so we don't need to bring the ones from home. Those old Singers and Kenmores (the really heavy ones) hiding in the back of your closet are great for piecing quilts.

The Tuesday Quilting group has donated many quilts over the last year. In August, they donated a lap size quilt for the Meadowood Auction. They also gave one to the Veteran's committee that was raffled off at the Veterans Party on November 10th. And in November, one was raffled off at the Turkey Shoot.

We have many more quilts in the works for the eye clinic and other needy organizations. Come join us! Sewing is not required.

Drop by any Tuesday from 11-3. We would love to show you what we are working on.

Nancy Goldsworthy
Quilting Coordinator




---
ZUMBA!

Tuesdays and Thursdays
10:15am to 11:20am


Hello, I am Julie Dahlman, a Gateway Elk and Founder of Baby Boomers Social Club which holds dance events here at the Elks the Third Friday of the month and 4th Friday at Milwaukie Elks. As an Elk and Boomer, I am offering Zumba Dance Exercise Video and a Stretching Video on Tuesday and Thursday from 10:15 AM - 11:20AM. Both these videos are great exercise, strengthening balance and muscles which will help us live a more healthy and active social life as we age. Learning new dance moves and learning stretching exercise is good for the brain. Our Baby Boomers Social Club motto is "Dancing Boomers Are Forever Young" and music is good for the soul and dancing is good for the heart. Exercise is our life line into the next stages of our life.

Please join us and bring a yoga mat for part of the stretching. We encourage people to go at their own pace and be aware of your limitation. There is no instructor and no one watching and we are each moving and being active to the tune of our own body.

Zumba Dance Exercise Video and Stretching Video is held twice a week. Hope to see you there.





---
Wednesday Monthly Paper Crafting/Card Making Evening Social



We meet once a month always on the 2nd Wednesday of the month!

This group has been meeting for 5 years now,
but we are moving to a new location!

We are going to start meeting at the Cascade Room starting in June.

The next crafting get together will be : Wednesday, June 11th.

Dinner and Drinks available at 5:00pm, then we'll start with the projects at 5:30pm.

The supply fee for this event is $7.00.

All you need to bring is a tape runner or 2 sided tape.

No previous experience required, but every month you will learn something new!

We make 4 projects.

All supplies are pre-cut and you just follow the sample.




In order to make sure we have enough packets for everyone that wants to attend, please RSVP to Mary Gast @ at least 2 days before the event or as soon as you know you will attend!

Want to Join Us?





---
Every Wednesday Night!



What could be more fun than playing BINGO
with your friends, helping to support local charities,
AND winning some cash??
Starts at 6:30pm

Offered Every Week:
Coffee and Popcorn ~ FREE
Hot Dogs ~ ONLY $1
Polish Sausages ~ ONLY $1.50
Sodas and Other Drinks
Available Upstairs in the Lounge


Message from the Bingo Committee: Hello all, the Bingo Committee has an appetizing deal for you! When you purchase a dinner on Wednesday night for $5 or more, bring the receipt to Bingo and we will give you a great specials during BINGO! it is good only on the night of the food purchase. you can even bring your meal, and drinks from the bar, downstairs and play. So come on down and have a good meal and some fun playing Bingo!
---
Friday Night Dinner
From 5pm - 9pm

Music & Dancing
Starts at 7:30pm
(But you're welcome to dance at any other time)



Friday Night

Saturday Night

Archie Entertainment ~ 1st
Stingrays ~ 8th
Baby Boomers ~ 15th
2 + 1 (Speak Easy) ~ 22nd
JC & The Water Walkers ~ 29th

Jukebox Saturday Night ~ 2nd
Spitsparks (Casino Night) ~ 9th
Jukebox Saturday Night ~ 16th
Jukebox Saturday Night ~ 23rd
Jukebox Saturday Night ~ 30th









Sunday Bands

Nabila & Gibson ~ 3rd
George O'Donnell ~ 10th
Samantha Bogard ~ 17th
Dyssband ~ 24th
Slim Bacon ~ 31st






Friday Night

Saturday Night

Archie Entertainment ~ 5th
Stingrays ~ 12th
Baby Boomers ~ 19th
Taska ~ 26th

Jukebox Saturday Night ~ 6th
Jukebox Saturday Night ~ 13th
Jukebox Saturday Night ~ 20th
Jukebox Saturday Night ~ 27th






Sunday Bands

George O'Donnell ~ 7th
Samantha Bogard ~ 14th
Open Jam ~ 21st
Open Jam ~ 28th




*TBA means that the webmistress has not yet been informed of the band that is possibly playing this night.
The "Jukebox Saturday Night" is just that, it's the jukebox located in the Lodge Game Room. Plug a buck in, play some FREE pool, order up a cold one, and have a fun
night with your friends in the game room. You're even welcome to dance!




MAIN LOUNGE AND DANCE FLOOR
Game Time

Whether you are a casual player or a fanatic, you'll find what you need! For your enjoyment, the Lodge has:

CARDS
LOTTERY MACHINES
DARTS
POOL TABLES
SNOOKER
SHUFFLE BOARD


Our facilities are particularly suited for scheduled activities like:

CHESS
CARD GAMES

POOL TOURNAMENTS





Guests are always welcome but must be accompanied by a member.
Click here to find out how to become a member




THE GAME ROOM
---
I'm not sure what happened, but the Facebook "Like" button evaporated on me. I am working on getting it back.

Oh heck! I give up... if anyone out there could help me with this, it would be GREATLY appreciated! I have tried everything. :-(

Kind regards,
Deborah Plance,
Gateway Elks #2411 Webmistress